Contact Our Dentist Office in Bedford, MA
---
Emerson Dental
ADDRESS
HOURS
Monday | 9am - 5pm
Tuesday - Thursday | 8am - 5pm
Saturday | Closed
Sunday | Closed

---
Request an Appointment
---
Best of 2020 Westford
---
Emerson Dental is proud to have been recognized by the Westford Awards as "Best of 2020" in dentistry.
Each year the Westford Awards honor the achievements and accomplishments of local businesses throughout the Westford area.
Their mission highlights the small business community's contributions to the U.S. economy. We are proud to be among the winners in 2020.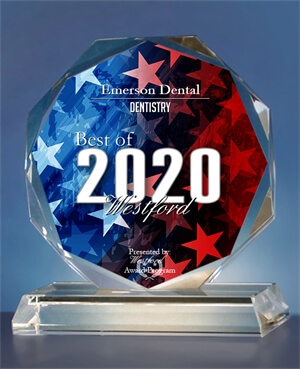 Questions You Might Have Before Your Appointment
Do you accept dental insurance?
---
Yes, we accept many dental insurance plans. Contact our patient relations team if you would like information regarding your specific plan.
What information is needed for my first appointment?
---
To save time and provide you best treatment possible please have your previous dental records and most importantly, copies of your x-rays to our email: receptionist@emerson-dental.com.
Please fill out all paperwork online prior to your appointment. You can access our patient forms on our website, If you are unable to complete this information electronically, please let us know ahead of time and plan on coming to your appointment 15 minutes earlier to complete this paperwork prior to your scheduled appointment time.  
What dental services do you offer?
---
Can I book my appointment online?
---
We have an online appointment request form on our website. Fill it out and a member of our team will contact you shortly to schedule your appointment.
What should I do if I need to reschedule or cancel my appointment?
---
We ask for at least 48 hours' notice so we can offer your appointment to a patient who needs urgent care. Appointments cancelled with less than 24 hours notice are subject to a cancellation charge.
---
What Our Patients Have to Say
---
I can't say enough great things about Emerson Dental. The staff is amazing, kind, and helpful. The location is very clean, the equipment is state of the art and my experience was very positive. Christian H., Bedford, MA
I switched to the Emerson Dental location in Bedford because it was closer to home. The office is new, bright, modern, and clean. Dr. Wu was very nice and explained everything while he was filling my cavity. I highly recommend this office. Pauline S., Bedford, MA
I had such a great experience here. Dr. Wu and Peggi were friendly and just amazing. They took the time to explain what was going on and asked me what I WANTED. They listened and gave me options. The second you walk in you know that this isn't your grandparents' dental office.Tommy L., Bedford, MA
I have visited Emerson Dental twice now, and have had by far the best dental experience ever here! The front desk was efficient and welcoming in scheduling my appointments. My hygienist was extremely knowledgeable and kind in explaining my teeth, how they work, and what I can do to improve my dental health. When Dr. Wu came to examine my teeth, he gave me plenty of options as to how we can treat an issue that I have been having, and explained each option so clearly, without pushing me in any direction. Every inch of this facility is state of the art, clean, and extremely comfortable to be in.Michelle S., Bedford, MA
---