Dental Implants in Westford, MA
---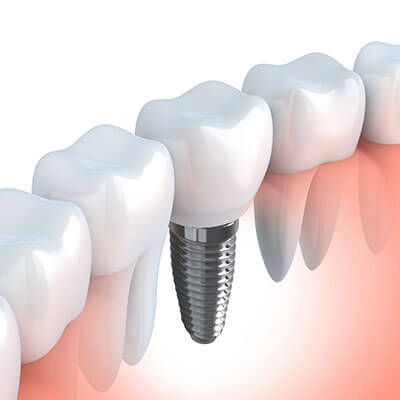 ---
Do you have missing teeth that are impacting the way you can eat your favorite foods or make you self-conscious about your smile? Do you wear a removable partial or denture that is ill fitting or limits your enjoyment when dining, or in social situations? If your answer to these questions is yes, then we have the team to provide you with excellent solutions. Dental implants serve as strong, stable anchors for highly realistic replacement teeth. One dental implant can support a single crown, while a handful of dental implants can support an entire upper or lower arch of teeth.
Dr Gabriel Boustani is a board certified periodontist and member of our Emerson Dental team who will guide you through the process of obtaining dental implants to restore the function and aesthetics of your teeth. Being a multi-specialty practice, we will seamlessly coordinate all aspects of your implant care without the inconvenience of having to go to multiple offices. We also offer financial planning and will work with your insurance benefits to provide you with the most cost effective way to achieve the smile you desire.
Call (978) 399-0017 to learn more and schedule your appointment.
Regardless of your particular needs, the first step of your treatment is to obtain a comprehensive evaluation. We utilize cone beam scanning technology to create a full 3D digital model of your mouth which provides for highly accurate planning and placement of your new dental implant.
Using biocompatible titanium, your implant will be placed in the mouth and over the next four to six months, your implant will fuse with the bone through a process known as osseointegration. Depending on the location of the missing tooth, you may require a temporary restoration or a removable appliance such as a denture, during this period of healing. Once the implant is fully fused, an abutment post will be attached to secure the final restoration.
Durable and long-lasting, dental implants restore most of the bite strength and relicate the chewing ability of natural teeth. Implants prevent and more importantly, reverse bone loss and sunken appearance associated with dentures. No longer will you have to face the slipping, loosening, and gum irritation that affect so many denture wearers. Whether you choose a removable or permanently attached final restoration, dental implants provide you the security and peace of mind, knowing that you will be able to speak and eat as you would with your natural teeth.
We are conveniently located right off Rt 495 in Westford and look forward to helping you discover if dental implants are right for you. Call our friendly staff at Emerson Dental today at (978) 399-0017 to schedule your initial consultation and put you on the right path to achieving your beautiful and healthy smile.